We have something truly special in store for you! Introducing Claesde's travel swing for baby – the perfect companion for families who dare to explore. Whether you're planning a hiking trip through rugged terrains or embarking on a cross-country road adventure, our innovative travel swings will revolutionize how your little ones enjoy their outdoor escapades. Get ready to discover the countless benefits of Claesde's travel swing for baby and unlock unforgettable moments of joy for your entire family!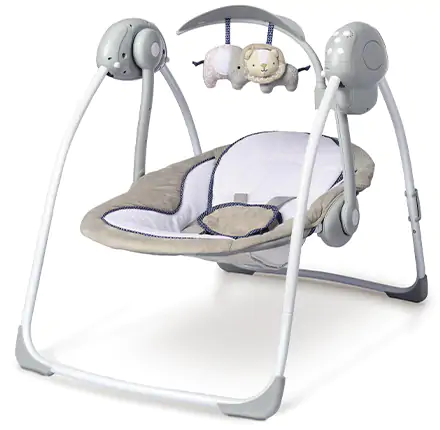 Why Claesde is Worthy of Your Choice?
Claesde is a leading manufacturer of baby products located in Nantou Town, Zhongshan City, Guangdong Province. Since June 2016, we have devoted ourselves to independent research and development, production and sales of innovative, high-quality items such as electric swings, cradles, foldable high chairs for babies and more at competitive prices. We proudly claim numerous patents and own two renowned brands - Weinigao and CLAESDE.
Benefits of Investing in a Travel Swing
When it comes to travel, there are a lot of things that families have to take into account. However, one of the best ways to ensure that everyone in the family enjoys their trip is by investing in a travel swing. A travel swing for baby can provide a number of benefits for an adventurous family, and here are just a few of them:
They're great for babies and toddlers. If you're planning on taking your baby or toddler with you on your travels, a travel swing can be a lifesaver. They provide a safe and comfortable place for your little one to play or nap while you're on the go.
They're easy to set up and take down. Travel swing for baby are designed to be easy to set up and take down, so you won't have any trouble getting them ready for your next adventure.
They're lightweight and portable. Travel swing for baby are typically very lightweight and portable, so you can easily pack them up and take them with you wherever you go.
They're affordable. Travel swing for baby are usually very affordable, so they won't break the bank when it comes time to purchase one.
How to Assemble and Use the Travel Swing
Assuming you have already read the main blog article and are simply looking for instructions on how to use the travel swing, here are the steps:
Hang the travel swing for baby from a sturdy tree limb or other support using the included straps. Make sure that the straps are tight and secure before proceeding.
Once the swing is hung, test it out by gently rocking back and forth to ensure that it is stable.
To get into the swing, sit down in it like you would a regular chair and then pull your legs up so that they are resting on the seat. You may need to adjust your position until you find a comfortable spot.
To start swinging, simply push off with your feet to get yourself going. You can also use your hands to help propel yourself forward if desired.
When you are ready to stop, gently bring your feet back down to the ground to slow yourself down. You can also use your hands to help brake if needed.
Conclusion
Claesde's travel swing for baby provides a unique and exciting way for families to explore the world together. Whether you're looking for an exotic adventure or just want to take some time out from your busy day-to-day life, these swings can help make that possible. From the comfort of your own home, you can enjoy the thrill of swinging high in the sky while enjoying beautiful views of nature. With its lightweight design and easy setup, it's never been easier to create adventures with Claesde's travel swing for baby!