Are you a parent who wants to give your child the best start in life? Look no further! Investing in a quality baby push car walker could be the game-changer you've been searching for. Not only does it provide endless entertainment and giggles, but it also plays a crucial role in supporting your little one's development. In this blog post, we will dive into why Claesde's simple yet effective toy is more than just fun – it's an investment in your child's future success. So, buckle up and get ready to explore how a baby push car walker can aid your child's physical, cognitive, and emotional growth like never before!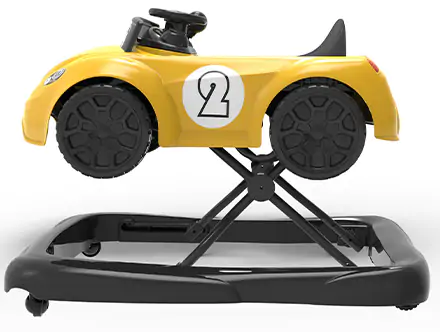 Why Claesde is Your Best Choice?
Claesde is a renowned maker of baby products, situated in Nantou Town, Zhongshan City, Guangdong Province. Since our establishment in June 2016, we have committed ourselves to research, development, production and sales. We provide an extensive range of electric swings, electric cradles, folding high chairs and other infant solutions, all for fair prices. Furthermore, we hold several patents and the well-known brands Weinigao and CLAESDE.
What is a Baby Push Car Walker?
A baby push car walker is a type of toy that helps toddlers learn to walk. It is a small, lightweight car that has a handle on the back for parents to hold while their child pushes it along. The baby push car walker is designed to help toddlers develop coordination and balance as they learn to walk.
There are many different types of baby push car walkers available on the market, but not all of them are created equal. When choosing a baby push car walker, it is important to select one that is made from high-quality materials and that features adjustable speed settings. Additionally, you'll want to choose a model that comes with a safety harness to keep your child secure.
Using a baby push car walker can help your child develop strong leg muscles and improve their coordination. Additionally, pushing and steering the toy will help your child develop their fine motor skills. Playing with a baby push car walker can also be a great way for parents and toddlers to bond as they interact and play together.
Benefits of Investing in a Quality Baby Push Car Walker
There are many benefits to investing in a quality baby push car walker. Perhaps the most obvious benefit is that it can help your child develop their gross motor skills. Walking is an important milestone for babies and toddlers, and a push car can help them practice and perfect their technique.
In addition to promoting gross motor development, push car walkers can also aid in your child's cognitive development. Pushing and steering a car requires problem-solving and planning skills, and your child will learn to use these skills as they navigate their way around.
Push car walkers are also great for fostering imagination and creativity. As your child pretends to drive their car around, they'll be using their imaginations to create all sorts of adventures. This is an important skill that will serve them well throughout their lives.
Push car walkers are simply fun! They provide an enjoyable activity for your child while also helping them develop important skills. When choosing a push car walker, look for one that is well-made and durable so that your child can enjoy it for years to come.
Conclusion
We pride ourselves on our strong presence in the industry, large product variety, and commitment to quality and customer satisfaction. What's more, we specialize in electric swings, electric cradles, foldable high chair for baby, and other baby products and offer reasonable baby product prices. Plus, we specialize in manufacturing high-quality baby products, and we also offer dependable OEM/ODM services for full customization and branding.